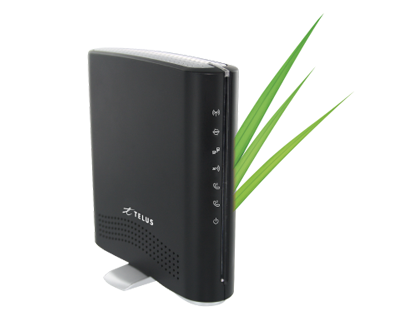 The TELUS Smart Hub creates a secure WiFi network, providing Internet access and simultaneous phone service using the TELUS 3G+ network.  Access data at speeds of up to 7.2 Mbps download and 5.76 Mbps upload. The Smart Hub features the latest security options such as WPA data encryption, SPI Firewall and VPN pass through. Plug the TELUS Smart Hub into a power outlet, insert an active SIM card and get access to a high speed 3G+ Internet connection and voice service within minutes..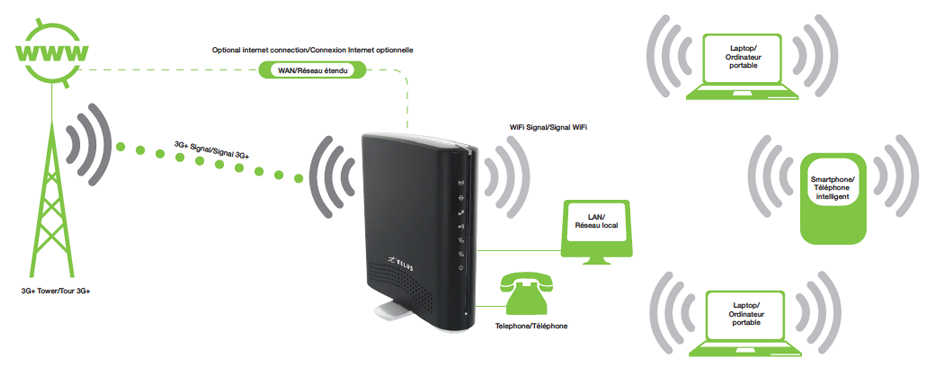 Get high speed Internet access for up to 15 users plus phone service on Canada's largest* 3G+ network from one portable device. 
TELUS Smart Hub is ideal for clients who :
- Have offices outside the range of ADSL or cable broadband access who want high speed Internet and phone service.
- Frequently move job locations that want their high speed Internet and phone service to move with them.
- Are looking to quickly and easily setup connectivity without installation costs. Simply plug the device into an AC power source to get connected wherever there is TELUS 3G+ coverage.
- Need to share their data and provide connectivity to multiple users at a single location. Connect up to 15 users via WiFi with the latest WiFi technology (802.11n).


The TELUS Smart Hub provides 3 ways to easily connect to the largest 3G+ network in Canada*; WiFi, LAN and a voice connection. The TELUS Smart Hub incorporates a WLAN 802.11b/g/n access point, two Ethernet 10/100Mbps ports and two phone ports for making and receiving telephone calls.


WiFi connection
- The latest WiFi technology 802.11n, capable of speeds up to 300 Mbps wireless(backward compatible with 802.11b/g)
- Share your connection with up to 15 wireless devices(laptops, smartphones and more)
- Wireless security options - WEP, WPA or WPA2

Data connection
- One LAN port to connect a desktop computer
- One WAN port for alternate Internet connection(ADSL/Cable/Satellite)
- Supports auto Internet fallback to 3G+ from an alternate Internet connection


Single phone line
- Connect up to two landline phones to make and receive telephone calls over the TELUS 3G+ network
- With HSPA voice calls can be made simultaneously with data use