Track your assets, vehicles and workers in real time, while gathering information from the field and improving operating efficiencies.
You can do it all – at a cost-effective price – with TELUS Tracking and Dispatch Solutions.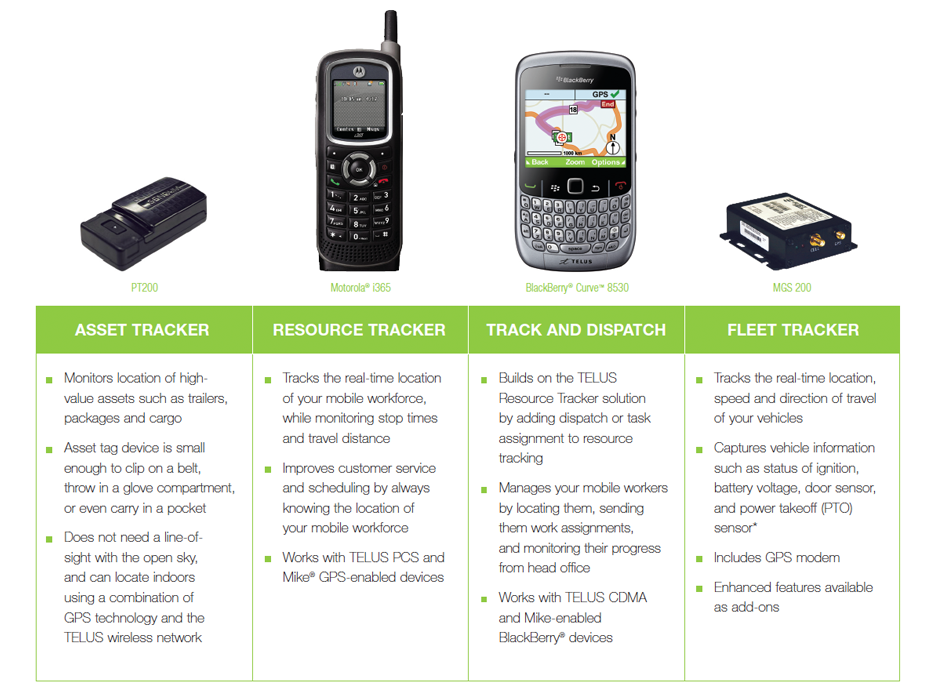 TELUS Tracking and Dispatch Solutions give you full visibility into the activities of your mobile workers, assets and vehicles. With real-time information and up-to-date reports, your company can improve asset, resource and vehicle management, reduce costs, and uncover additional revenue-generating opportunities. Better scheduling and improved communications can help you enhance customer service with faster and more accurate response times. The bottom line: TELUS Tracking and Dispatch Solutions can help your business run more profitably.

- Track real-time location of vehicles, assets and mobile workers and dispatch tasks to the nearest mobile worker while receiving updates
- Provide your customers with accurate arrival times and dependable scheduling with proof of delivery or pickup

- Recover stolen vehicles and assets with real-time tracking
- Prevent unauthorized use of vehicles and out-of-route activities by using automated alerts


- Reduce fuel costs by minimizing speeding, idling time and inefficient route selections
- Optimize fleet repair schedules by tracking mileage travelled while automating maintenance logs
- Increase capacity and operating margins with detailed reporting to manage key metrics:
– Idle time
– Travel speed
– Distance traveled
– Travel time
– Vehicle diagnostics
– Driver behaviour
– Arrival/departure time at customer location.